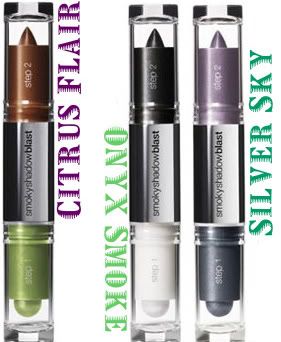 I've had the pleasure of purchasing the new CoverGirl Smoky Shadow Blasts & wanted to share my thoughts in case anyone else was interested in checking them out, too. I only purchased three of the shades (Buy 2, Get One Free, thanks Ulta!) in Citrus Flair, Onyx Smoke & Silver Sky.
From
CoverGirl.com
:
The two different, specially contoured ends of our ShadowBlast stick make it easy to create a bold, colorful, smoky eye. A duo of expertly paired shades provide the bold, spotlight-ready looks loved by today's hottest makeup artists.
These are supposed to be easy ways to pull of a smokey look. And I really do see their intention. The different ends are nice, the product is creamy & easily blendable, & they are fairly cheap! But in reality, these are much too greasy to really be used alone. Creasing is definitely an issue here. I was a little more interested in using them as a colored eyeshadow base. With a base to prevent creasing underneath & a shadow over the top to set it, these really have the color pay-off to be darn good bases.
In order from left to right: Onyx Smoke, Silver Sky, Citrus Flair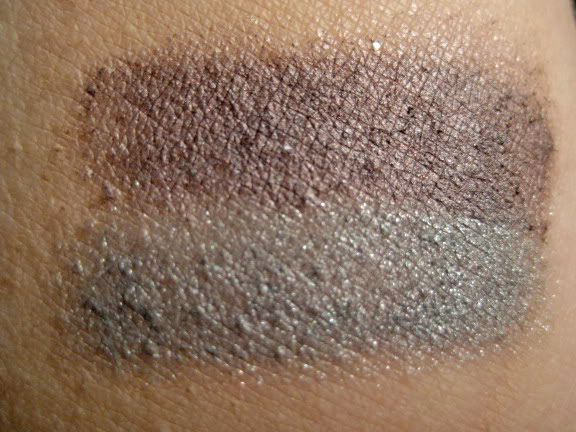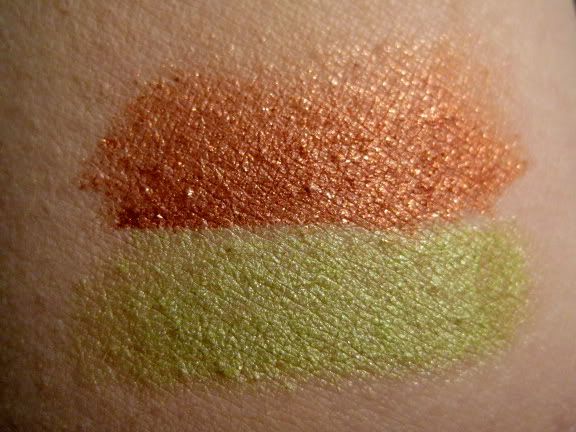 I'm definitely impressed with the color pay-off of these. I have been using them with the following products:
Too Faced Shadow Insurance
MAC Painterly Paint Pot
Eyeshadow of the top of the Smoky Shadow Blast to set it in place
If you don't have oily lids & don't already have to use an eyeshadow primer, you may be better off going with whatever eyeshadow base you prefer (MAC Paint Pots, Cream Color Bases, etc), but for the price of these I don't have a problem with it at all. I already have to use an eyeshadow primer anyway. But with that said, still better yet: NYX JUMBO EYE PENCILS. Hope you found this helpful. Thanks for reading!